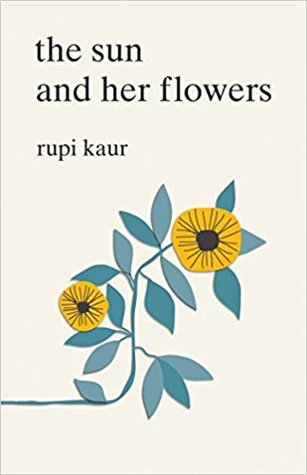 The Sun and Her Flowers by Rupi Kaur
Publication Date: Oct 2017
Buy: Here
My Rating: ✹✹✹✹
Goodreads Description:
"From Rupi Kaur, the #1 New York Times bestselling author of milk and honey, comes her long-awaited second collection of poetry. A vibrant and transcendent journey about growth and healing. Ancestry and honoring one's roots. Expatriation and rising up to find a home within yourself.
Divided into five chapters and illustrated by Kaur, the sun and her flowers is a journey of wilting, falling, rooting, rising, and blooming. A celebration of love in all its forms."
"I will no longer
compare my path to others

-I refuse to do a disservice to my life"
My Thoughts: 
I loved Milk and Honey, and I loved The Sun and Her Flowers just as much! 
I just love Rupi Kaur, plain and simple. 
This collection of poetry was brimming with every kind of emotion imaginable. It was beautiful and incredibly brutal. Many a times I sat back and reflected on what I'd just read as it triggered a thought process or realisation in my mind. 
I love the empowering messages about self love, our bodies and the acceptance of our skin colour. 
The illustrations by Kaur were a lovely touch, and added so much depth to the poems!
I cannot claim to be a massive poetry fan, because that would be a lie. But Kaur's work really speaks to me. I enjoy her style and her simple yet effect way. 
About The Author: 
Rupi Kaur is a #1 New York Times bestselling author and illustrator of two collections of poetry. She started drawing at the age of five when her mother handed her a paintbrush and said—draw your heart out. Rupi views her life as an exploration of that artistic journey. After completing her degree in rhetoric studies she published her first collection of poems Milk and Honey in 2014. The internationally acclaimed collection sold well over a million copies gracing the New York Times bestsellers list every week for over a year. It has since been translated into over thirty languages. Her long-awaited second collection The Sun and Her Flowers'was published in 2017. Through this collection she continues to explore a variety of themes ranging from love, loss, trauma, healing, femininity, migration and revolution. Rupi has performed her poetry across the world. Her photography and art direction are warmly embraced and she hopes to continue this expression for years to come.