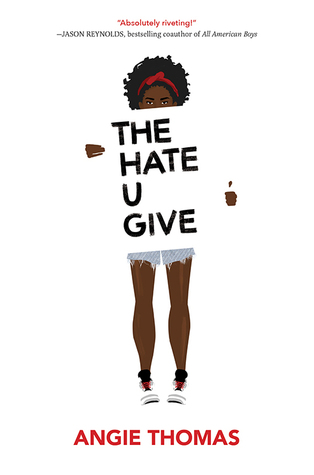 The Hate U Give by Angie Thomas
Publication Date: Feb 2017
Buy: Here
My Rating: ✹✹✹✹✹
Goodreads Description:
"Sixteen-year-old Starr Carter moves between two worlds: the poor neighborhood where she lives and the fancy suburban prep school she attends. The uneasy balance between these worlds is shattered when Starr witnesses the fatal shooting of her childhood best friend Khalil at the hands of a police officer. Khalil was unarmed.
Soon afterward, his death is a national headline. Some are calling him a thug, maybe even a drug dealer and a gangbanger. Protesters are taking to the streets in Khalil's name. Some cops and the local drug lord try to intimidate Starr and her family. What everyone wants to know is: what really went down that night? And the only person alive who can answer that is Starr.
But what Starr does or does not say could upend her community. It could also endanger her life. "
"Sometimes you can do everything right and things will still go wrong. The key is to never stop doing right." 
My Thoughts: 
I have seen, and heard, a hell of a lot about this book. And I just knew I had to read it. A few days ago, I found it in my local bookstore, and I literally haven't put it down since. Every spare second I've had, I've read this book. 
Because wow. 
Wow. 
The world needs this book. It is important and timely, because of the social and/or political message it sends out. 
The Hate U Give is inspired by the Black Lives Matter movement, and follows Starr, the protagonist, and how she deals with the aftermath of witnessing Khalil, her childhood friend, being shot by a cop for… doing absolutely nothing wrong. She attempts to fight a system she knows is working against her. And we see, through Starr's eyes, how the media presents young black men as guilty until proven innocent – and when you're poor, black, and from a rough neighbourhood, it's virtually impossible to appear innocent.
I cannot stress how important this novel is. It educates. The characters may be fictional, but what happens in it is scary real. 
"A hairbrush is not a gun."
The Hate U Give is incredibly well-written and emotionally-charged. Every single topic addressed was approached so wonderfully and did not hold back. This is the kind of book that should be in the hands of every teenager, making them aware of current issues, educating them on pressing matters, and encouraging them to get involved to create change!  It poses many important questions about racism, police brutality, discrimination, and prejudice while also answering them in a comprehensive and inviting way. 
Overall, I thoroughly enjoyed this book. I finished this with an entirely new perspective I will carry with me in the future. Always conscious, always compassionate, always speaking out. I highly recommend this book to every single person. It's needed. You need it. I need it. The world needs it. 
Also, I have to add a huge thank you to Angie Thomas, for the abundance of Harry Potter references, I a-Dumble-dore you! 😉 
About The Author: 
Angie Thomas was born, raised, and still resides in Jackson, Mississippi as indicated by her accent. She is a former teen rapper whose greatest accomplishment was an article about her in Right-On Magazine with a picture included. She holds a BFA in Creative Writing from Belhaven University and an unofficial degree in Hip Hop. She can also still rap if needed. She is an inaugural winner of the Walter Dean Meyers Grant 2015, awarded by We Need Diverse Books. Her debut novel, The Hate U Give, was acquired by Balzer + Bray/HarperCollins in a 13-house auction.